in Support of Parley Maldives Initiative
JA Manafaru Resort in the Maldives collaborated with local partners, guests and the community to undertake a plastic removal and sustainability initiative on a neighboring island
JA Manafaru Maldives recently collaborated with a local school and their ocean activity partner, Best Dives Private Limited, to collect more than 23 jumbo bags of waste from a neighboring island and Marine Protected Area; Gallandhoo for recycling through Parley Maldives. 
Parley Maldives is the Maldives branch of Parley for the Oceans, a global collaboration network with a new approach to environmentalism. The mission of Parley is to end today's major ocean threats through creativity, collaboration and eco-innovation. The private island resort of JA Manafaru itself is spectacularly beautiful and unspoilt, sitting in the crystal-clear waters of the most northern point of the Haa Alifu Atoll. Although the ocean and beach areas surrounding the award-winning resort are pristine examples awe-inspiring nature, other islands in the Maldives have issues with waste, particularly non- biodegradable materials like plastic.
Best Dives Maldives, a local diving, excursion and ocean activity company partnered with the JA Manafaru Resort and a local school – Hoarafushi School, to undertake a monumental task in cleaning up the western coastline of Marine Protected Area (MPA), Gallandhoo. The JA Manafaru Environmental & Sustainability team planned the clean-up with Best Dives, informed guests and arranged resort boats to collect volunteers heading to the island to clean the area. Together more than 50 staff, guests, students and parents filled over 23 jumbo bags of waste in one hour. Marine biologists asserted that Gallandhoo Island looked strikingly different after the team efforts and considerable potential damage to marine life was averted. All the plastic waste collected will be sent to Parley.
To address the fast-growing threat of marine plastic pollution, Parley have devised a strategy that can be scaled across private households, schools, businesses and governments: Parley AIR — Avoid, Intercept, Redesign. Guided by these pillars, they advocate avoiding the use of single-use plastics and promoting responsible disposal of single-use plastics. The goal in the Maldives is to boost the protection of the marine ecosystem through collective change. In collaboration with plastic interception partners, Parley has now exported 48 containers of plastic waste from the Maldives, preventing over 800 tons of plastics from entering the oceans. These plastics are recycled and upcycled to help create a new economy of eco-innovation and collaboration, beginning with reducing the use of raw virgin plastics in production processes.
School students and guests were presented with certificates of appreciation for their participation in the JA Manafaru event, and when asked why there was such an issue with plastic waste on Gallandhoo, the students explained there are low levels of understanding for many people regarding the disposal of plastic waste and of the environmental damage it causes. New General Manager, Karen Merrick commented;
'JA Manafaru in collaboration with our ocean activity partner Best Dives is committed to improving upon and reducing our environmental footprint here in Haa Alifu, one of the most uninhabited atolls in Maldives. We are honored and humbled to live and work as custodians of this beautiful part of the world and assist with such initiatives whenever/wherever we can. Every day we continue our internal mission to ensure education and awareness play a part of life here at JA Manafaru'.
In order to preserve the coral reef, beautiful beaches and sea life, the JA Manafaru team has an ongoing commitment to environmental awareness and sustainability. The hotel no longer uses plastic bottles for drinking water and instead have their own glass bottling plant, which results in a huge reduction in plastic waste. The JA Manafaru 'House Reef Cleaning' also invites guests to give back in a fun snorkelling and underwater reef-cleaning exercise, which certified divers can join. All items collected are logged so that any notable pollution can be immediately addressed. Other initiatives in planning at JA Manafaru include upgrading the water desalination plant for residual water to be used for landscaping, solar panel installation and a campaign for associates that raises awareness about reducing energy consumption.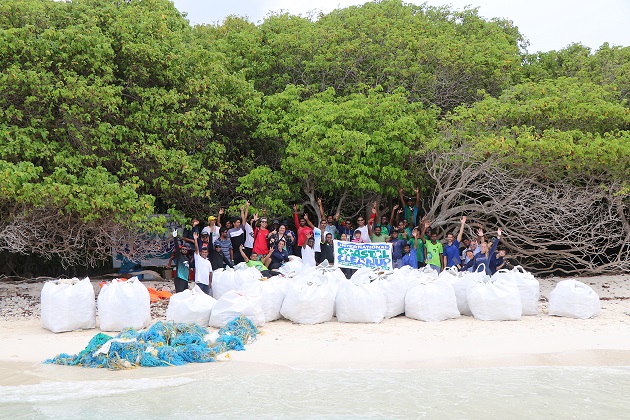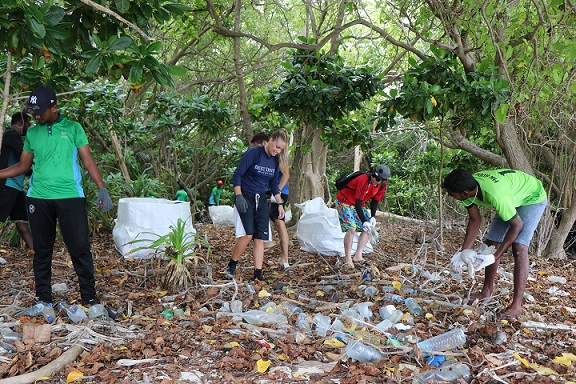 About JA Manafaru
JA Manafaru is an idyllic 5-star luxury island resort fringed with exquisite powder beaches in pristine, lagoon-ringed Haa Alifu Atoll, at the northern tip of the Maldives. Accessed by private seaplane, the chic tropical hideaway features 84 luxurious beachfront and over-water villas and bungalows, each with their own private plunge pool. Seven scenic dining destinations provide a culinary journey with traditional Indian Ocean cuisine, international fare and seafood feasts. China's most renowned chef, Da Dong, brings his Michelin acclaim to White Orchid Asian restaurant with a collaborative menu launched in 2019. World-class recreational facilities include Calm Spa, a fully equipped dive, water sports and excursion centre, plus a Marine Research Centre to conserve local ecology. Once-in-a-lifetime wedding and honeymoon celebrations are also a specialty at JA Manafaru, which has been recognised as the Indian Ocean's Leading Honeymoon Resort (2019 World Luxury Hotel Awards). 'Legend' hotels by Preferred Hotels & Resorts are the ultimate collection of extraordinary properties in the world's most remarkable destinations and JA Manafaru is the only property selected in the Maldives. Ranked among the World's Ten Best Hotels (TripAdvisor Travellers' Choice Awards 2019), JA Manafaru is a tropical paradise where unique experiences can become unforgettable memories.
For more information on JA Manafaru, please visit;
http://www.jaresortshotels.com/en/maldives/ja-manafaru
About JA Resorts & Hotels
A legacy UAE brand, JA Resorts & Hotels was born in 1981 and has a widely recognised reputation for excellence, in the management and operation of award-winning resorts and hotels. Taking its name from the original Jebel Ali (JA) Beach hotel, JA Resorts & Hotels portfolio now features 8 distinct properties across the UAE and Indian Ocean, each dedicated to curating unique experiences and creating unforgettable memories. Tropical escapes include JA Manafaru, the idyllic luxury island resort in pristine, lagoon ringed Haa Alifu Atoll, at the northern tip of the Maldives and JA Enchanted Island Resort, an ultra-luxurious hideaway of 10 exquisite villas on a private island, in the middle of the protected Saint Anne Marine Park. Within the UAE, guests can choose from the five-star JA Ocean View Hotel, as well as the deluxe hotel apartments of JA Oasis Beach Tower, both located along 'The Walk' in Jumeirah Beach Residence. Other attractive options include the acclaimed JA The Resort – Dubai's largest experience resort, with 1 million square metres of thrilling activities and 3 unique hotels offering 795 suites and rooms between them– JA Beach Hotel, the all-suite JA Palm Tree Court and JA Lakeview Hotel, a stunning new Golf Course adjacent property due to open in September 2019. The JA Hatta Fort Hotel completes the portfolio as Dubai's only mountain resort, a secluded getaway amidst the stunning Hajar Mountains landscape. JA Resorts & Hotels is a member of the Global Hotel Alliance (GHA), the world's largest alliance of independent hotel brands, bringing together more than 30 brands with over 550 hotels in 78 countries.
For more information on JA Resorts & Hotels, please visit;
Facebook: http://www.facebook.com/jaresortshotels
Twitter: http://www.twitter.com/jaresorts
Instagram: http://instagram.com/jaresorts